Journal Entry:
Sun Dec 23, 2007, 11:13 PM
News


Merry Christmas!




I want to wish you all a very Merry Christmas & a Wicked New Years! Not sure if I will have time later so thought I better do it now.

I pray that everyone has peace, joy & love in their hearts for the Holidays.
This will be a busy next few weeks for me. Christmas, New Years & then my Birthday!

I will be 28 on January 8th 2008!


Be safe all!
Love & Light
Ashlie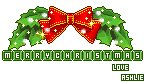 Mood: Jolly
Listening to: Christmas Music on the Radio
Reading: DA News
Watching: Everybody Loves Raymond
Drinking: Strwaberry Crush

Watch